Our Floor Fitting Service
Our Guarantee
Taurus Flooring, based in Eastwood, provide a professional floor contracting service to homeowners, architects, interior designers and contractors. We're experts who have worked in the flooring industry for many years and we have become the trusted source for advice and knowledge when it comes to designing floors.
We work with all the major brands and some niche products also. Whether you need us to perform repair work or give you a completely new designed floor, our level of expertise, professionalism and customer service cannot be matched. We tailor our services to ensure optimal results from floor selection and specification through project completion.
The floor a homeowner chooses, has everything to do with their individual lifestyle. Floors affect the character of a space profoundly and we offer a vast selection of design trends that fit virtually every preference you could have.
Our services include the provision and fitting of floors ,floor sealing and floor preparation. We also provide a sanding and restoration service for all types of wooden floors, including hardwood, softwood and parquet.
Our highly experienced sales team are dedicated to customer service & care with a wealth of knowledge of the hardwood flooring Industry, so please feel free to contact us today for a free quotation, samples or brochures. Our skilled staff are waiting to deal with your enquiries no matter how small or complex and will be able to assist you with any technical enquiries that you may have. Alternatively, you can visit our Eastwood showroom where we have over 200 samples of wood flooring on display.
Methods of Wood Floor Installation Floating
Floating
In this type of wood floor installation the new floor is fitted over an underlay without being fixed to the subfloor. Popular with engineered wood flooring and laminate floorings, the floors planks are glued together with PVA adhesive or click together directly . This fitting method allows installation of specific types of underlay and damp insulation.
Fully Bonding to Subfloor
Here the wooden floor is stuck directly onto concrete, chipboard or plywood Special adhesives with immense bonding strength remain flexible indefinitely allowing the wood to expand and contract seasonally without damaging the structure of the timber . For parquet block and mosaic floors rigid adhesives are used to fully bond the floor to prevent excessive movement of the individual blocks.
Nailing Down
he commonest method of nailing floors down is by using a special floor nailer(port nailer) to drive a barbed steel cleat through the tongue of the new floorboard at 45 degrees leaving the floor surface nail-free. Nails are driven into underlying kiln dried timber battens , plywood or chipboard . For boards above 160mm the boards may need to be surface nailed using cut clasp or similar nails.
We have very experienced staff here at Taurus Flooring in Eastwood  that are highly skilled at undertaking the floor restoration process, which can transform an old or damaged floor almost back to its original condition.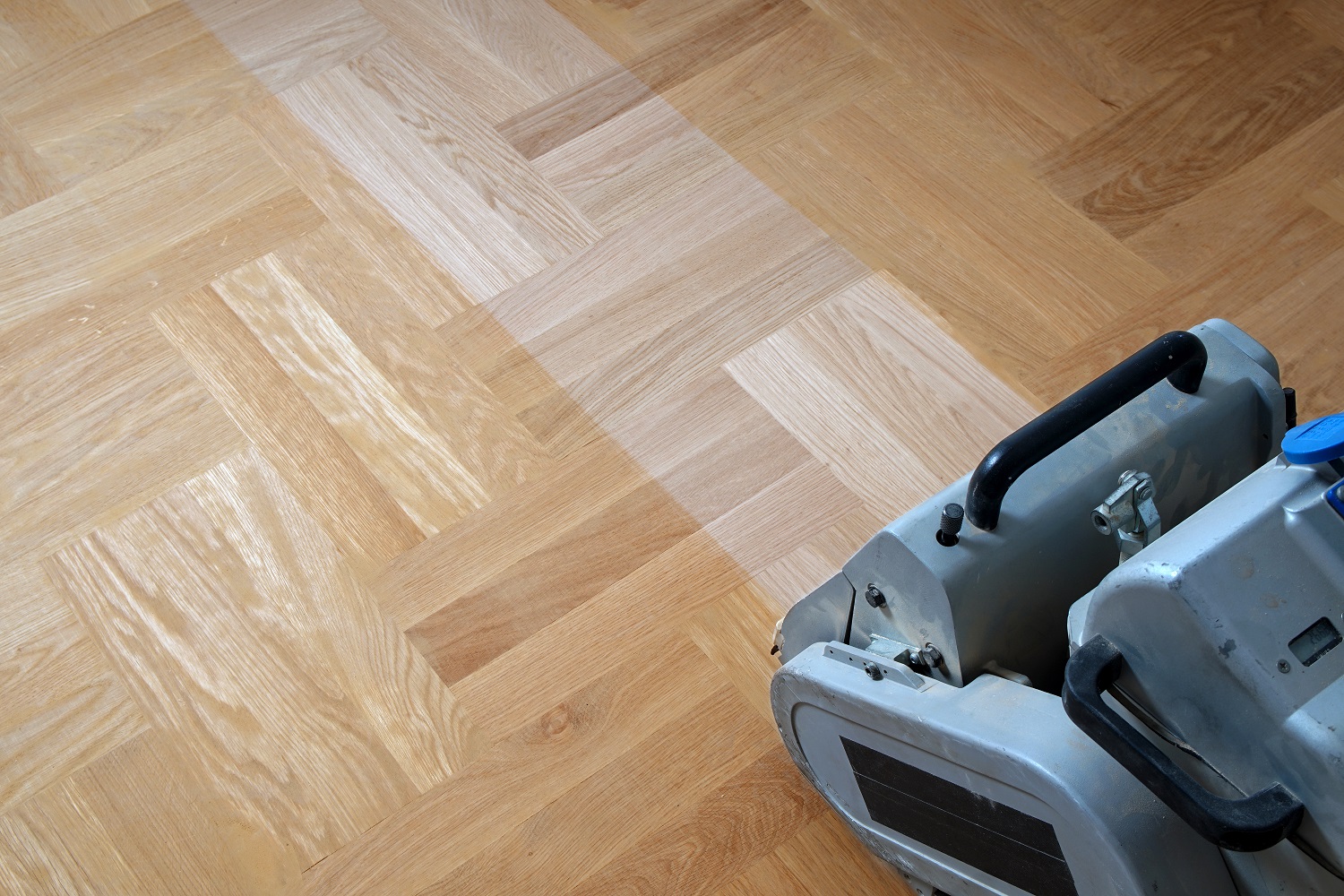 Flooring Sanding & Polishing
After years of neglect, wooden floorboards or parquet blocks can become heavily worn,  scratched or punctured by gripper rods or obscured by layers of wax and polish. Complete re-sanding and coating of timber floors is often required when they are accidently scratched by careless tradesmen and delivery men.
Finally, do you just want to change the look of your floor? We can stain your floor to one of a range of standard colours prior to oiling or varnish.
Whatever your unique requirements,  Taurus Flooring will undertake your entire floor restoration project using the following procedures:
Survey & Estimate Preparation
The first step is to calculate the length of time and materials needed. Please email or phone us with measurements of the rooms to be restored so that we can give you a provisional estimate. If you are happy with our initial quote we will come out and survey your floor to see if extra materials and work are required. For instance Items such as missing or loose blocks and cork strip will increase the price and some floors may be deemed irreparable. Following a detailed survey we will confirm a final price to you.
Getting ready for Sanding
All furniture and fabrics should be removed from the rooms being restored. Although our machines generate very minimal dust, cupboards and doors should be taped up and existing floor coverings need to be uplifted then removed. After this we punch down any raised nails and fixings then fix down or replace any loose or broken planks, blocks or cork strip. We are now ready to begin the floor sanding operation using our top of the range Lagler belt sander for large areas and an edge sander in borders and corners. We start using a coarse grit to remove the worst marks from the floor then gradually work our way down through medium and fine grit sanding belts. During the sanding stage, sanding dust is mixed with a resin filler to fill any cracks and holes in the floor resulting in a high quality smooth finish in the newly sanded floor. Once the sanding stage has been completed, the floor is swept, vacuumed and dry-mopped prior to the application of any stains selected by the client.
Finishes and Seals
Once the sanding process is complete the next step would be to give your floors that final touch to bring out the true beauty in the wood. The Professionals at Taurus Flooring Sanding work tirelessly to give you the finest finish on your timber floors:
At Taurus Flooring Sanding we only make use of the highest quality solvents and coatings.
The first step once the wood has been sanded, would be to make sure all the dust is removed and the floors are clean
A layer of sealer is then added and the coating process begins.
Our polishing experts make use of the best techniques which have been gained through many years of experience to bring you the finish you desire.
Some of our available finishes include Gloss, Semi-Gloss, High-Gloss and Satin.
How long will my seal last?
Recoating times will vary dependant on location. For instance, a hall may need recoating yearly whereas a bedroom may only need refreshing every 3 or 4 years.
Hint: re-coat your floor before the seal has worn through and you will avoid costly re-sanding.
Additional Services
Subfloor Preparation
You can never underestimate the importance of subfloor preparation as part of the installation process so we offer the following services:
Levelling floors by application of levelling compounds
Fitting plywood to uneven / loose floorboards
Fitting of polythene or building paper as moisture barrier
Fitting of timber battens where required
Other Services Include:
Supply and fit of a variety of skirting boards
Move furniture where space is tight
Uplift and disposal of existing floor coverings
Trimming of doors where necessary
Minor repairs of damaged boards
Protection of newly-laid flooring